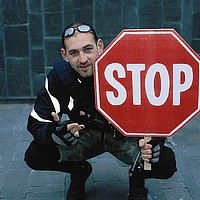 According to John W. Gofman, MD, PhD, "50% of ALL cancers in the 20th century have been caused by ionizing radiation of the type we would call low level... about three quarters of all the breast cancers in the 20th century were induced by ionizing radiation…including medical." VIDEO
Dr. Ernest Sternglass Nuclear Contamination and Cancer
Parts 1-3
http://youtu.be/NKnBawYTA48
http://youtu.be/-hjwegx0QPc
http://youtu.be/sf5v83xnd1A
ONLY A MATTER OF TIME....
The question was never whether or not a nuclear catastrophe would take place, the question has always been "when".
Now we know that the "when" is now (March 2011) and the "where" is not just Japan but all continents reached by atmospheric winds.
The NRC had offered us some loose guidelines approximately 18 years after the Three Mile Island meltdown. The suggestion was that communities close to a nuclear reactor stock potassium iodide and distribute it within an hour of the catastrophe in order to decrease the risk of thyroid cancer.
Here is a link to the CDC website that discusses uses of and dosage of potassium iodide CLICK HERE.
According to the FDA, the following doses are appropriate to take after internal contamination with (or likely internal contamination with) radioactive iodine:
Adults should take 130 mg (one 130 mg tablet OR two 65 mg tablets OR two mL of solution).

Women who are breastfeeding should take the adult dose of 130 mg.

Children between 3 and 18 years of age should take 65 mg (one 65 mg tablet OR 1 mL of solution). Children who are adult size (greater than or equal to 150 pounds) should take the full adult dose, regardless of their age.

Infants and children between 1 month and 3 years of age should take 32 mg (½ of a 65 mg tablet OR ½ mL of solution). This dose is for both nursing and non-nursing infants and children.

Newborns from birth to 1 month of age should be given 16 mg (¼ of a 65 mg tablet or ¼ mL of solution). This dose is for both nursing and non-nursing newborn infants.
How often should I take KI?
A single dose of KI protects the thyroid gland for 24 hours. A one-time dose at the levels recommended in this fact sheet is usually all that is needed to protect the thyroid gland. In some cases, radioactive iodine might be in the environment for more than 24 hours. If that happens, local emergency management or public health officials may tell you to take one dose of KI every 24 hours for a few days. You should do this only on the advice of emergency management officials, public health officials, or your doctor. Avoid repeat dosing with KI for pregnant and breastfeeding women and newborn infants. Those individuals may need to be evacuated until levels of radioactive iodine in the environment fall.
Taking a higher dose of KI, or taking KI more often than recommended, does not offer more protection and can cause severe illness or death..
The Union of Concerned Scientists (ucsusa.org) tracks the safety record of nuclear
reactors currently operating in the United States....
CLICK HERE for a map... but be warned that the
information can be upsetting to say the least.....
Thank you to Shirley Gregory, writing for AssociatedContent.com,
for shedding more light on an issue that is being "kept in the dark..."
*********************************************************************
April 26, 2006 marks the 20 year anniversary of the devastating Chernobyl Nuclear
Accident... a nuclear accident in any country becomes a nuclear accident for us.
Read here about the after effects.
**********************************************************************
Scroll to the bottom of this page or link to
This article can be found on the web at
http://www.thenation.com/doc/20071001/mangano
to read about John Gofman and the dangers

of radiation exposure....

*****************************************************************************************

Tracking Radiation Poisoning from the Inside Out

- Beth Ellen DiLuglio, MS, RD, CNSD, CCN

The Radiation and Public Health Project (RPHP) "Tooth Fairy Project" has collected baby teeth from all over the country and measured them for radioactive Strontium 90 (Sr-90), a known carcinogen. The RPHP researchers, including Dr. Ernest Sternglass, Professor Emeritus of Radiation Physics, Dr. Jay Gould, epidemiologist and statistician, and Dr. Jerald Brown, professor of anthropology, are studying the relationship between low-level nuclear radiation and increasing incidence of cancer in the U.S. The study is the first in the U.S. measuring in-body radioactivity in people living near nuclear reactors. Visit the study's website radiation.org.

The RPHP research revealed that the highest levels of Sr-90 found in the study were in children's teeth in South Florida where the rate of childhood cancer is considerably higher than the U.S. average. Children are especially sensitive to the carcinogenic effects of radiation. Alice Stewart, a British physician, demonstrated that a child was twice as likely to die of cancer by the age of 10 if exposed to an X-ray while still in the womb. Absorption of radioactive elements can have equally, if not more, devastating effects. In his article discussing the health effects of low level radiation, published in the June 1963 issue of the journal Science, Dr. Sternglass eerily predicted a rise in the very childhood cancers that we are seeing today. He was asked by President John F. Kennedy to present his paper to Congress and became part of the scientific debate that finally led to the Partial Test Ban Treaty, which bans the testing of nuclear weapons above ground, under water and in space.

Sr-90 in baby teeth is a reflection of how much radiation the mother is exposed to as she ingests it in food and water and passes it on the fetus. It is a manmade radioactive isotope and a marker for the presence of other radioactive elements released from nuclear fission, nuclear reactors, and weapons manufacturing. The body mistakes Sr-90 for CALCIUM, incorporating it into teeth and bones where it constantly bombards the bone marrow with radiation, damaging red blood cells and immune cells. A DAMAGED IMMUNE SYSTEM is then unable to destroy early cancer cells or fight off viruses and infections. Immune system damage is also associated with allergies, asthma, autoimmune diseases and immune deficiency disorders. In the bone Sr-90 can lead to OSTEOPOROSIS, a phenomenon clearly demonstrated in animal testing during the 1940's . Once in the body, Sr-90 can break down to Yttrium 90. Yttrium 90 travels to soft tissues such as the pancreas, pituitary gland, ovaries, testes, mammary glands, etc. where its powerful radiation damages these crucial hormone-producing organs. Yttrium also travels to the lung, resulting in chronic respiratory diseases and lung cancer which "oddly" has increased while the incidence of cigarette smoking has decreased.

The "St. Louis Baby Teeth Study", similar to the current "Tooth Fairy Project" was carried out in the 1950's and 1960's because of concerns over the radioactive fallout from nuclear bomb testing and its affect on health and disease. The St. Louis study demonstrated an increase in Sr-90 in the teeth of children born during the nuclear weapons testing. The study collected 385,000 baby teeth and completed analysis on 60,000 of them revealing that the average Sr-90 for children born in 1964 was 50 times greater than for those born in 1951, the first birth year for which teeth were measured. Miraculously, 85,000 of the unanalyzed baby teeth from that initial study were discovered in St. Louis in the spring of 2001. Washington University, involved with the initial St. Louis study, has sent the teeth to the RPHP Tooth Fairy Project where they can be used in a prospective study of the health effects of low level radiation and Strontium 90 ingestion.

How much radiation is exposure is "too much"? In the current RPHP study, levels of Sr-90 measured in the teeth of children born in the 1980's and 1990's was as high and in some cases higher than those born at the peak of nuclear weapons testing. What is the current source of the Sr-90? Nuclear power plants regularly emit liquid and gaseous radioactive waste, including Strontium 90, as documented by the Nuclear Regulatory Commission (NRC). The liquid is often pumped directly into the ocean while the gaseous emissions are released into the air and return in the precipitation that falls to Earth. According to annual reports sent by nuclear facilities to the federal government, the amount of "routine" radiation released from the Turkey Point (Miami area) and St. Lucie nuclear reactors from 1970-1993 was a total 10.39 trillion picocuries. This amount is approximately three-fourths the radiation released from the 1979 Three Mile Island nuclear accident which released 14.2 trillion picocuries. This begs the question of "safe levels" of radioactive emissions from nuclear power plants.

The industry insists that these emissions are well within the Nuclear Regulatory Commission's guidelines. Are the increases of 325% in childhood cancer in St. Lucie County well within the NRC guidelines? Note the following statistics. From the early 1980's to the early 1990's, cancer incidence in children under 10 rose 35.2% in five Southeast Florida counties (Dade, Broward, Palm Beach, St. Lucie and Martin) compared to a 10.8% rise in the U.S.. In the same period, St. Lucie County alone saw an enormous 325.3% increase in childhood cancer, pushing the rate to more than double the national average. (Source: Florida Cancer Data System- University of Miami School of Medicine and Florida Department of Health). Breast cancer mortality has also increased significantly in the counties around the Turkey Point and St. Lucie nuclear reactors compared to the U.S. national average. Epidemiological studies confirm a decrease in infant deaths around nuclear power plants when those plants are shut down on a temporary or a permanent basis (see www.radiation.org).

Edited by Dr. Ernest Sternglass 11/2001.

*** You can decrease your Strontium 90 ingestion by drinking REVERSE OSMOSIS or DISTILLED water (removes most Strontium 90) and protect yourself from effects of ingested radioactive isotopes by consuming ABUNDANT ANTIOXIDANTS (primarily from FRESH, organic fruits and vegetables, full spectrum supplements including Vitamin C, Vitamin E, selenium, alpha lipoic acid, etc.)

**********************************************************************

DUMPING of NUCLEAR WASTE reaches our municipal water supplies...